It was the stuff of science fiction back in the '80s(video), but today video chat is ubiquitous. Some combination of Facebook Messenger, Skype, WhatsApp, Apple FaceTime, and Google Duo are installed on most phones. And since the beginning of the coronavirus pandemic, more and more people are working, attending classes, and socializing with friends and loved ones from their computers and phones at home.
In this rapidly evolving cultural moment, there is a huge range of situations where video-conferencing software can be useful, and the possibilities are growing all the time. Everyone from individual freelancers to people who work for multinational corporations can use some version of the services the best video-conferencing companies provide to get work done remotely.
In short, if you can't meet face-to-face with your colleagues, customers, congregation, yoga class, homebrew club, therapist, or loved ones, and you need collaborative productivity tools like chat, screen sharing, annotation, and whiteboarding (even if it's just for fun), you should use one of these services.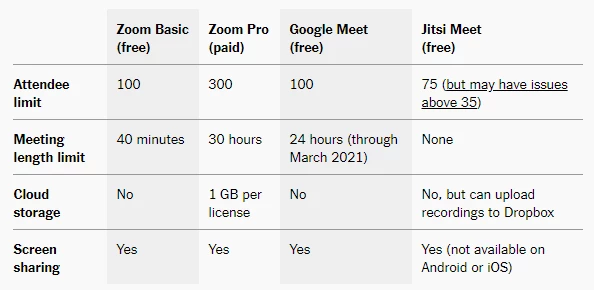 Source: https://www.nytimes.com